How Zalando absolutely dominates fashion search results (at least in Finland)
Published on: July 11, 2017 by Joona Tuunanen
I swear, it's almost impossible to do a fashion related search on Google Finland without bumping in to Zalando.
To show exactly how difficult it is, I took a sample of 1163 different keywords related to fashion. These include head terms like "shirts" or "boots" as well as more niche terms such as "red leather jackets for women" and the like.
Just look at this.
Searching for shirts: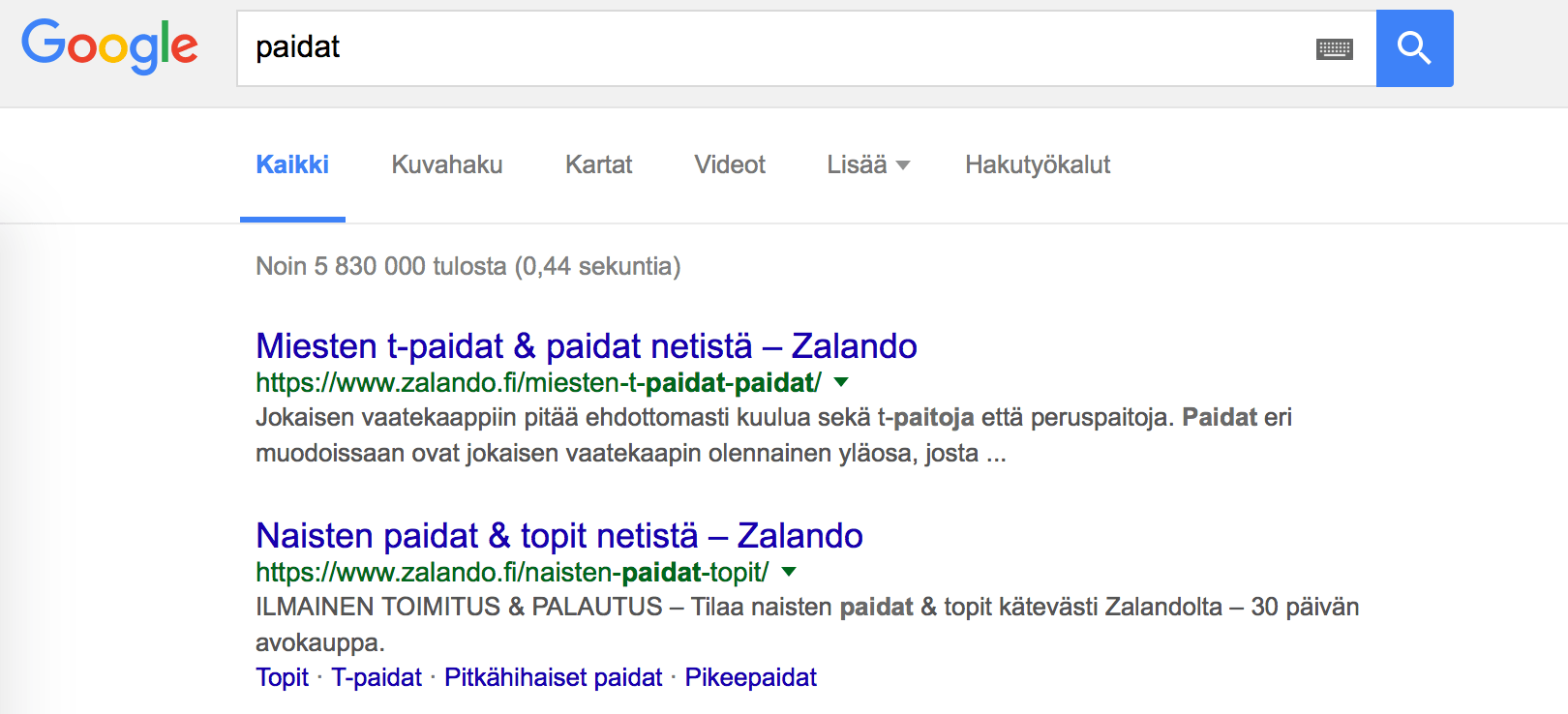 or women's shoes: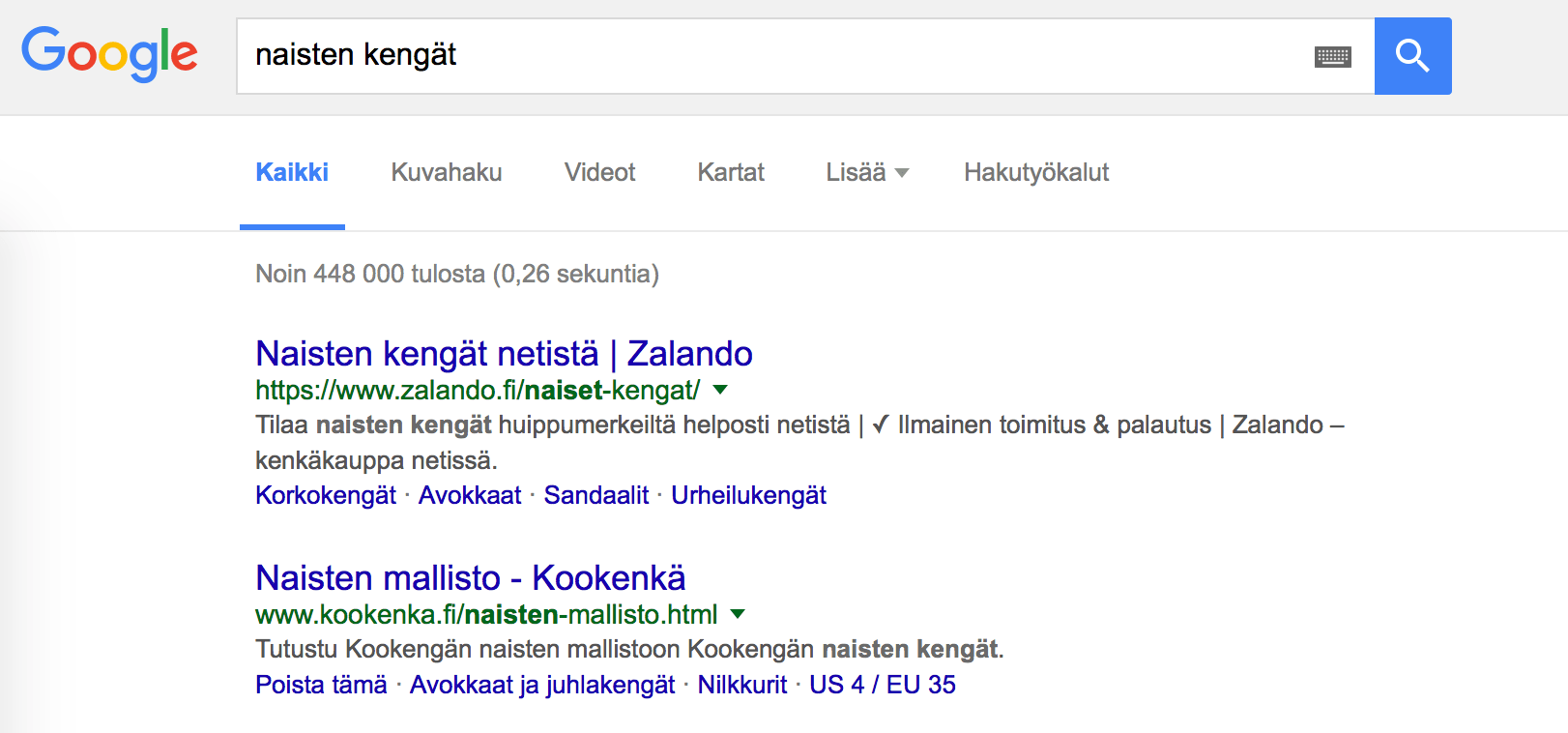 or men's jackets:

or just handbags: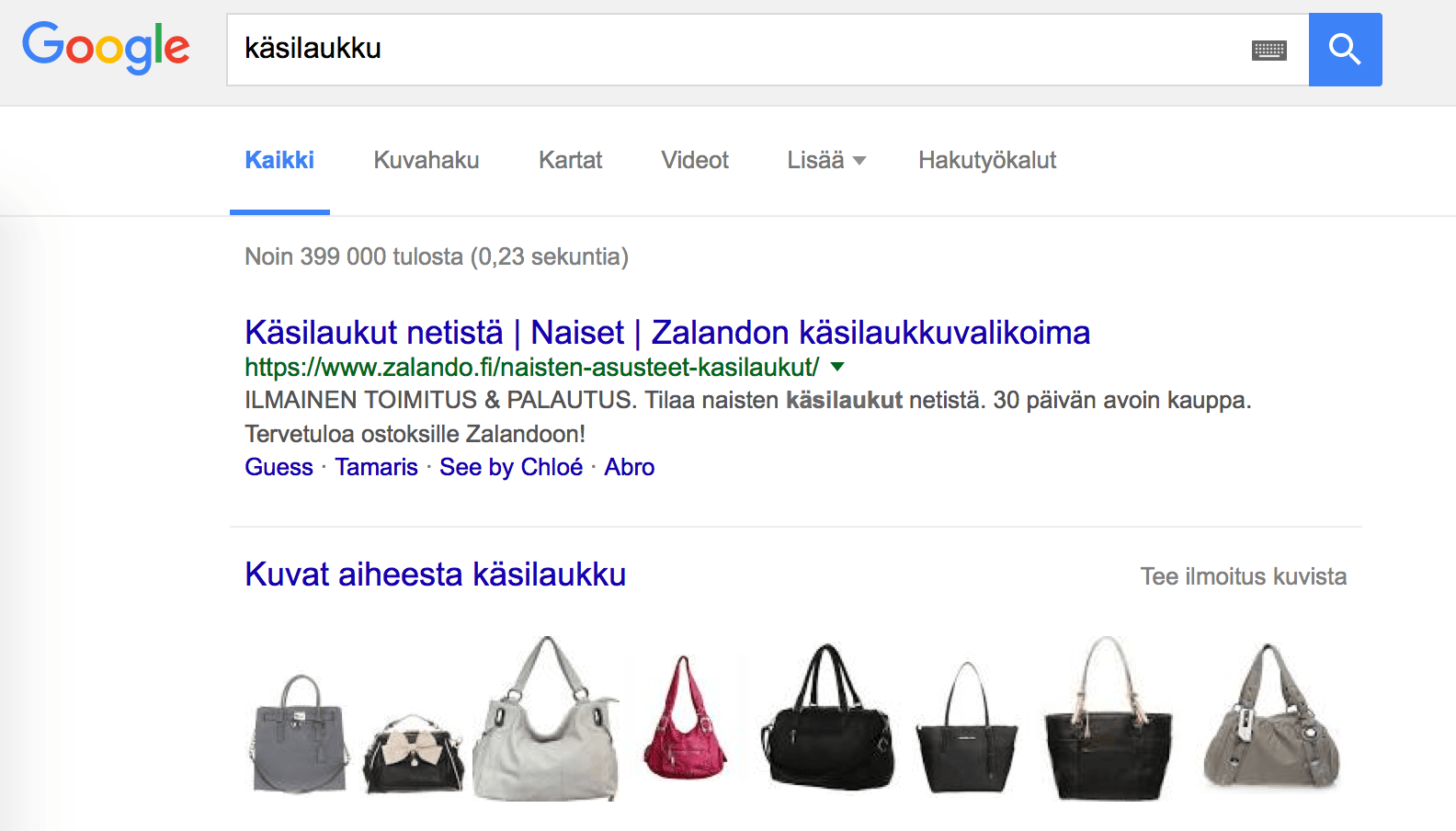 Zalando ranks extremely well for all these types of popular and competitive queries. No matter what kind of fashion stuff you're searching for in Google.fi, you'll see Zalando popping up.
Their site has been SEO'd really well for the above showed generic queries, but that doesn't mean they wouldn't rank for more niche terms as well. Here's what pops up if you search for ankle boots: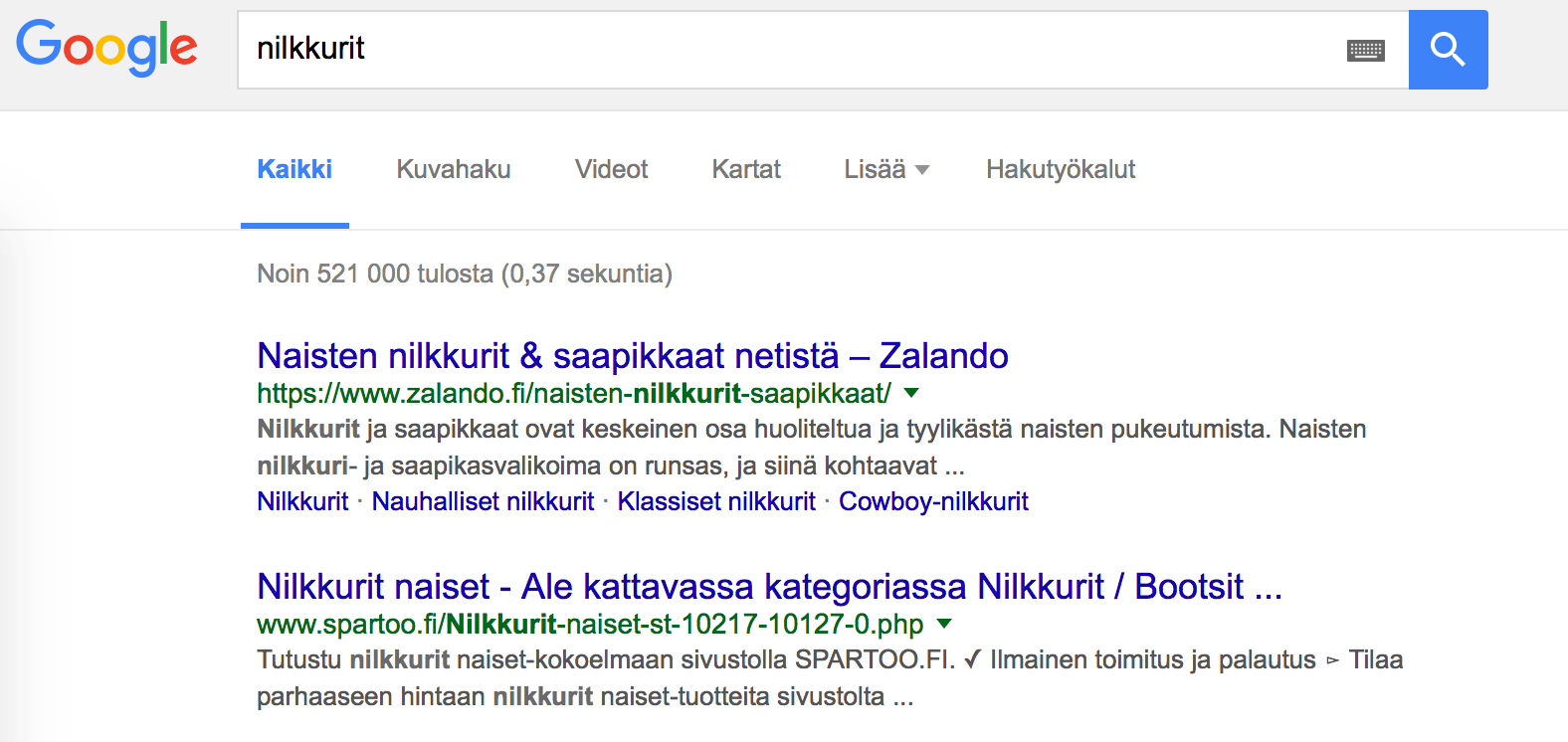 And even sports terms like basketball shoes are covered: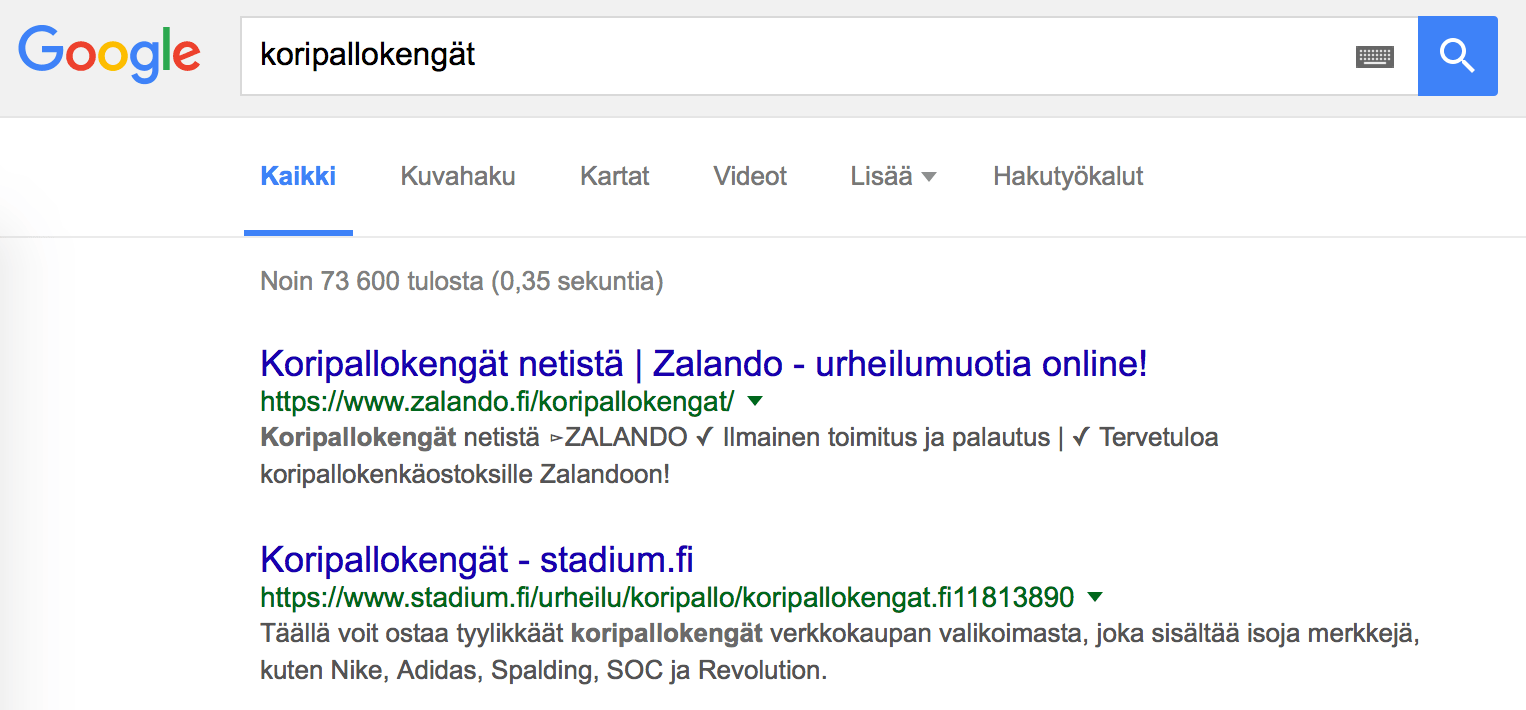 Yes, I've removed the ads from the following screenshots to make them cleaner. We do have search advertising in Finland :)
I guess I've beaten the horse to death already with all these screenshots. You get the point: Zalando absolutely dominates.
Here's a nice graph based on the keywords I researched for this blog post (rankings checked on 15th of July 2017):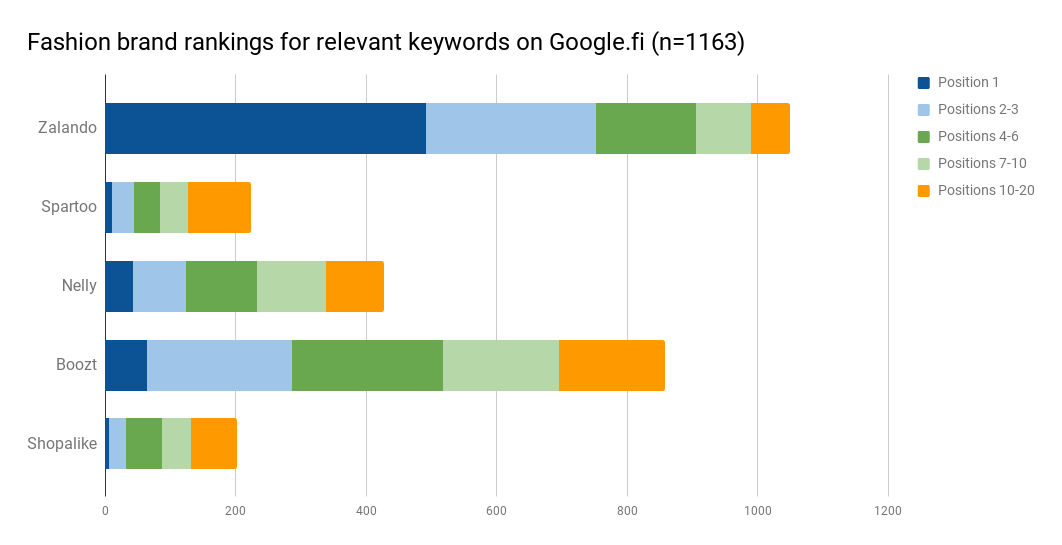 I also calculated very rough estimates about the amount of clicks based on search volume and average click through rates. That graph looks like this: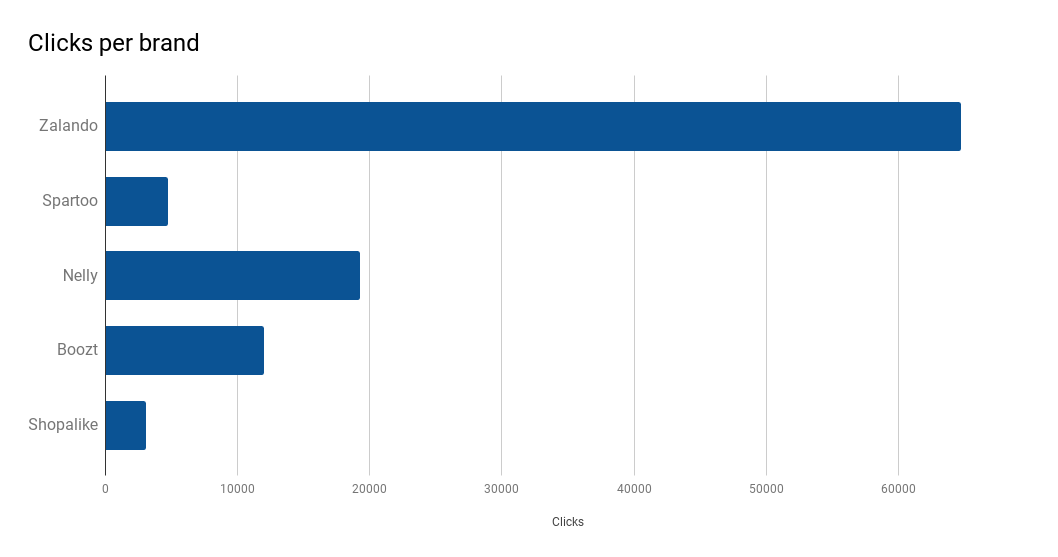 Overall Zalando was in top 10 for 989 of the examined 1163 keywords, clearly ahead of the second best ranking site, Boozt.
This type of dominance doesn't come easily and especially, it's not an accident. There are a lot things I could uncover, but in this article I'll focus only on on-page factors.
This is how Zalando does on-page optimisation
The bulk of this article revolves around product listing pages, because they are exactly those pages that rank well on search. Because those pages are long, I'm gonna split the example page into smaller sections.
You know what that means: MORE SCREENSHOTS.
The example page will be this women's leather jackets-page.
Let's start from the top.
Nothing fancy here, just good on-page SEO
Successful ecommerce SEO requires you to get the basics right, before going further to fancy stuff. Here's a picture of the top part of Zalando's product listing page: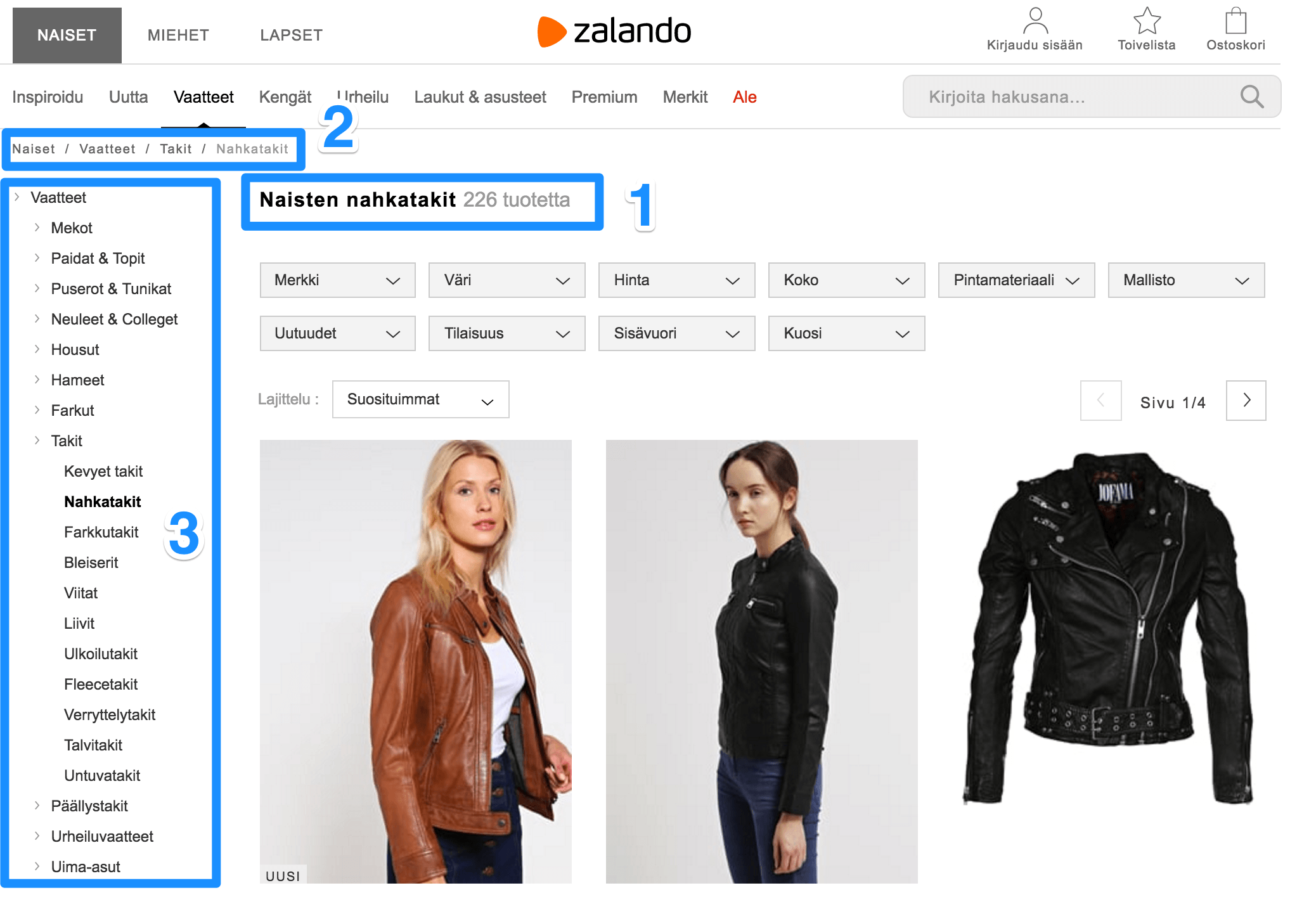 There's nothing special going on in the image above, just good'ol basic elements of on-page SEO.
Every page has a relevant title. It's only logical to bring a person looking for a woman's leather jacket to a page showcasing women's leather jackets.
The page has breadcrumbs which make it easier for search engines to understand the hierarchy of the site. In this case, we can see that the page is about women's clothers -> jackets -> leather jackets.
You can find a good and relevant navigation on the left hand side, which makes it easier for the visitor to switch categories. This is helped by the fact that Zalando has opened up all the sub-categories for women's jackets. Smart.
Another obvious but unfortunately sometimes missed part is that the product listing page only has women's leather jackets. That sounds obvious, but it's not uncommon to see completely irrelevant products on these types of pages.
Content and a little bit more content
When you scroll further down, you'll see this little section on the left hand side: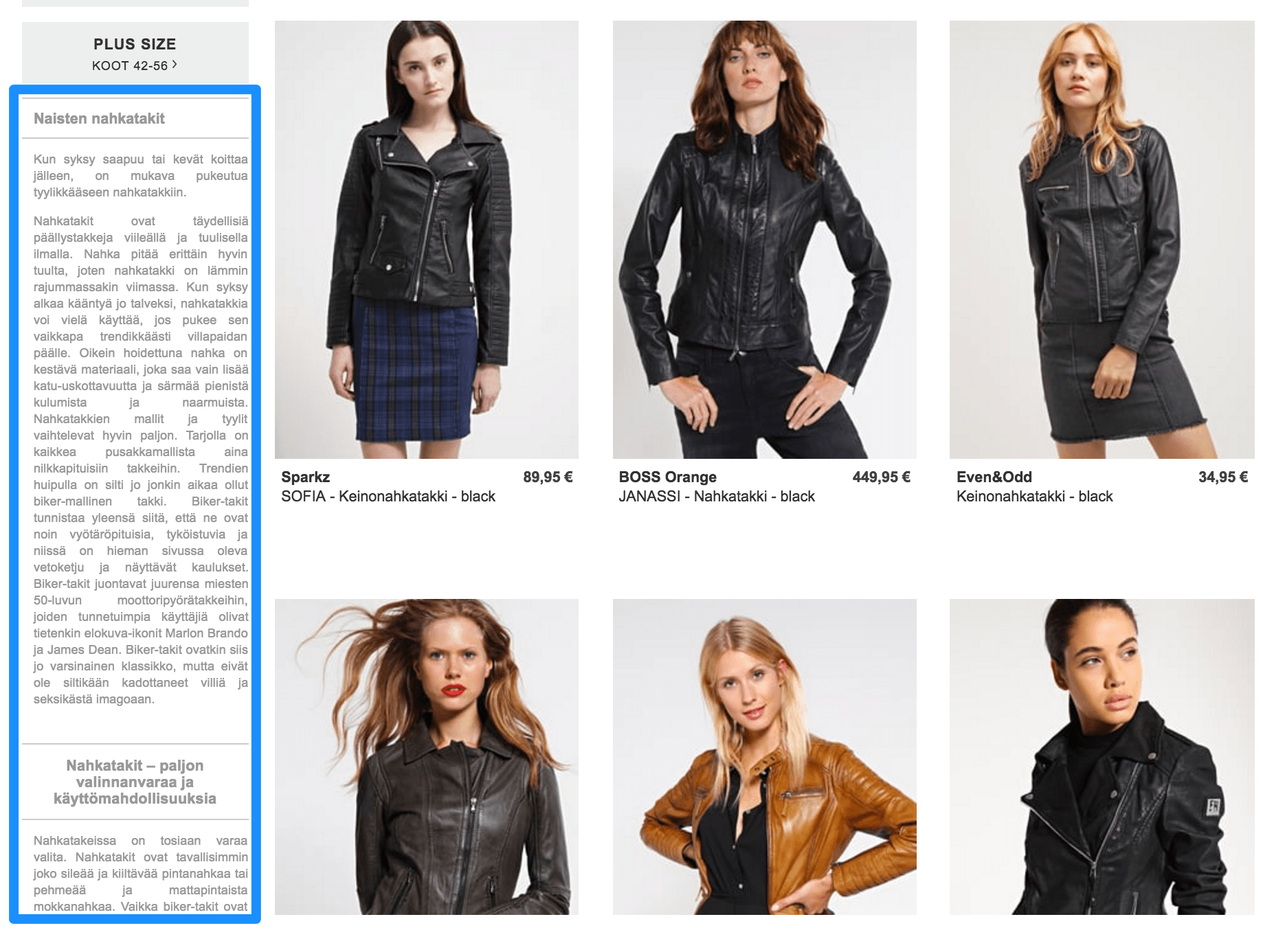 Zalando has added some content to the sidebar. Yippee, someone at Zalando can produce content about women's leather jackets, big deal.
The actual content is of course nothing special, but there are a few interesting things happening with it.
The text is clearly lighter than the normal text on the page.

Also the font size is smaller than otherwise (10px vs 12px in product cards).

The heading for this section is the same as on top of the page and in search results, "women's leather jackets".

There is a surprisingly high amount of content in here. This page has 358 words worth of content, which is basically more than in English because us Finns have decided to say no-no to prepositions and articles and such. To keep this in context, the typical editorials in the biggest newspaper in Finland are typically under 300 words long (for example here).

So, they've written content for more than an editorial piece, but hidden it in the sidebar with a smaller and lighter font size than their normal content.
Why?
To help their SEO.
This content is of course not meant to be read by humans, only by bots. It's there for all the humans to read as well, but you're not on this page to get educated about women's leather jackets. You're here to buy one.
If they'd want you to read their content, they would have highlighted the content better and probably moved that to a more central position on the page. Or perhaps they would have proudly presented the writer who just knows everything about women's leather jackets and can totally find a cute one just for you.
Instead of all that, Zalando smartly focuses on selling the visitors leather jackets. From their point of view the important thing is that people find these pages and that they can find a good variety of products.
Ok, onwards to the next section of the page.
And what do the people say?
This might seem insignificant for some people, but it's very likely that this has an impact on both SEO and sales. Enter product reviews from customers: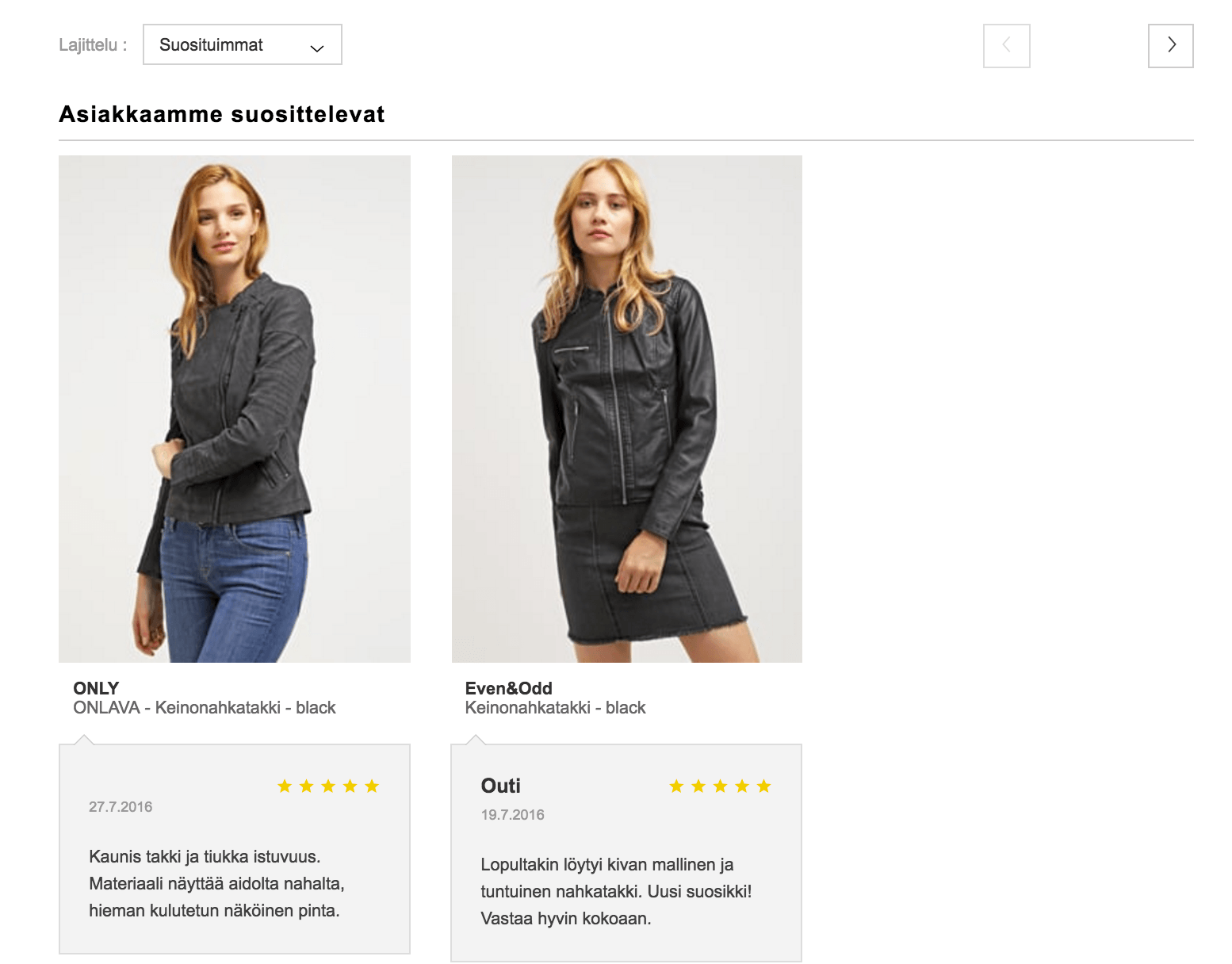 After the 75 items featured on the page, there's a little section that brings forth a couple of reviews. Besides the items and text reviews, Zalando has also included star ratings with dates and all that jazz.
I doubt it's a coincidence that at the time I took the screenshots, both of these reviews were fresh and gave great reviews of the purchased products.
Let's not forget the footer
And finally, we're at the footer, which also has a couple of semi-interesting things going on: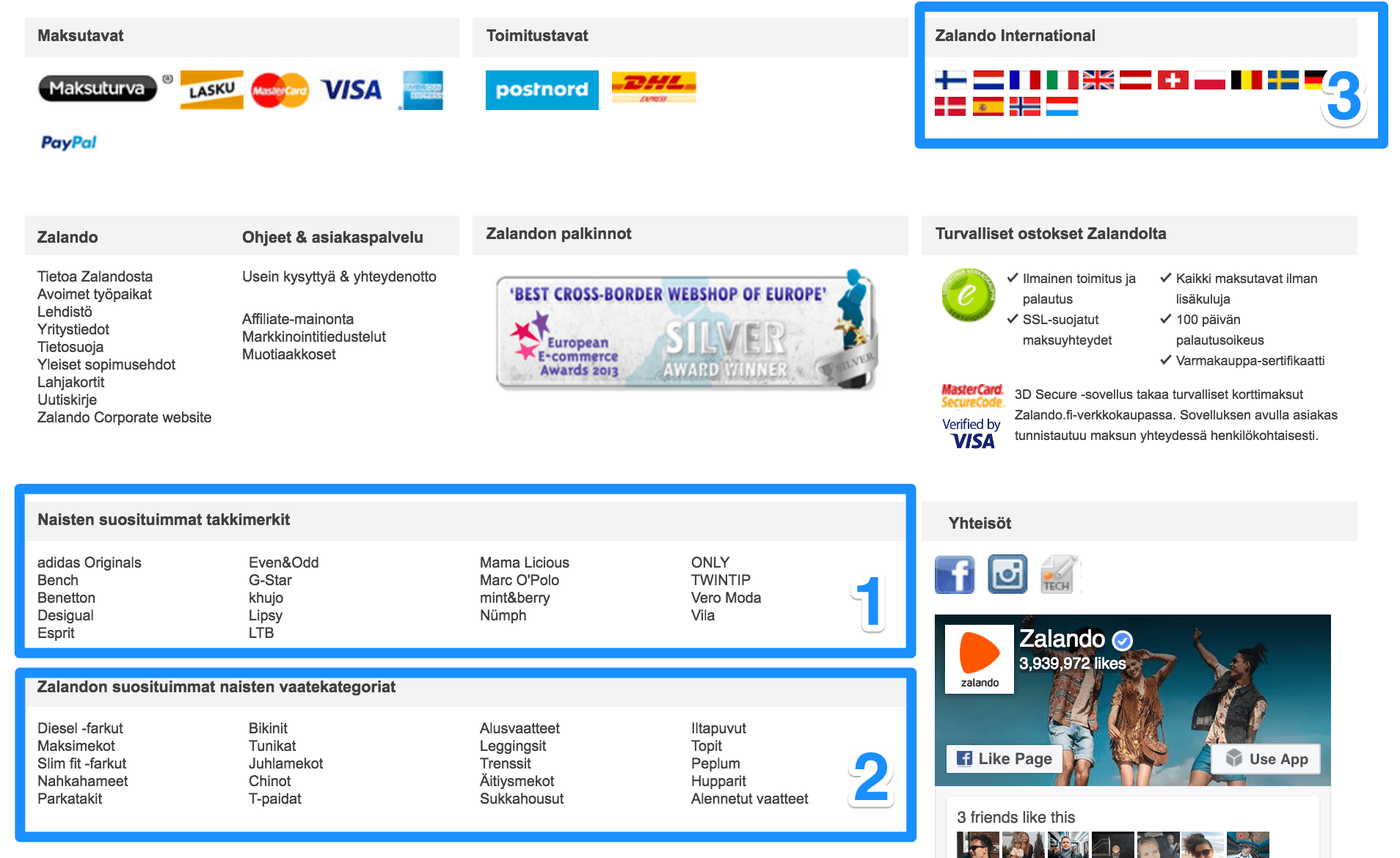 This section has a lot of important elements, such as accepted payment methods, credibility factors like that Facebook page with a lot of fans and a couple of rewards they've gotten.
But here are the interesting on-page SEO bits:
Zalando has listed a bunch of brands that all have their own pages. So if you want to browse through Benetton's products, there's a page for that. But Zalando also has a page that lists only jackets made by Benetton. Both of these pages have unique descriptions just like the example page we've used above.
There are also links to relevant product categories. These help Google to understand the relationships between these pages as well as make it easier for visitors to go from one category to another.
Links to their stores in other markets from the country flags. This cross-linking block is a part of their international domain strategy.
In practice these links help the target domain to rank better on search in other localities.
Another thing that Zalando has used on the page are hreflang-tags that have not been butchered, which is always refreshing:

Hreflang tags indicate to the search engines which languages and geo-targets the other pages have. I could go on longer about this topic, but perhaps just read this post by Aleyda Solis.
And what about the images?
Because the page shows 75 pics by default, it also has quite a few product pictures. Zalando seems to have clear optimisation process for them as well.
First of all, all the products are described in a systematic manner: Brand - Product name - Material - Color.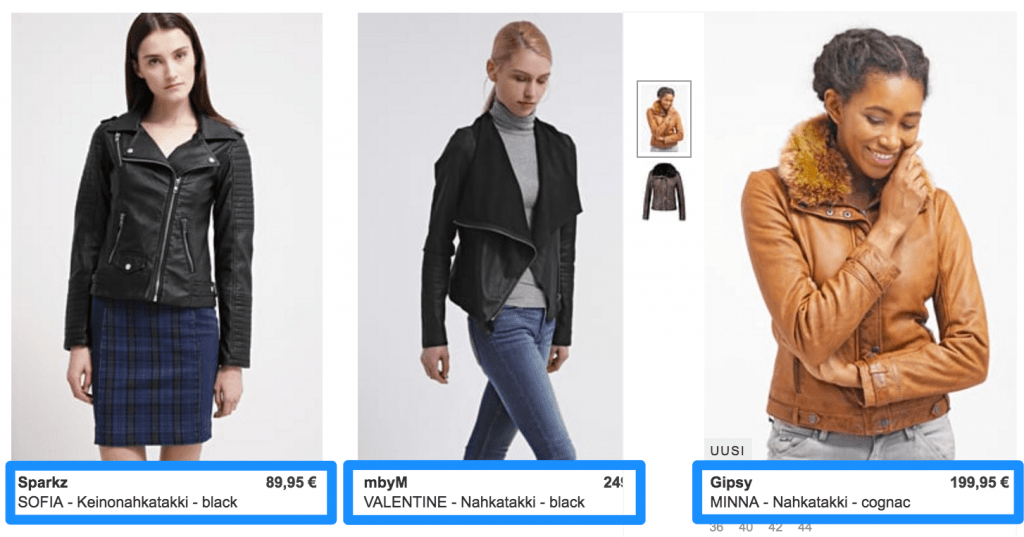 This makes it easy for visitors to just scan the products and find what they're looking for quicker. It's easy for the visitor to spot if the jacket is made of leather or of something just imitating leather. Also, notice how they're showcasing alternative colors for the last product just left of it.
All this just makes it easier for the visitor to make decisions which product she wants to take a closer look at.
What about the ALT-texts for these images? Yep, optimised as well as illustrated by this wordcloud: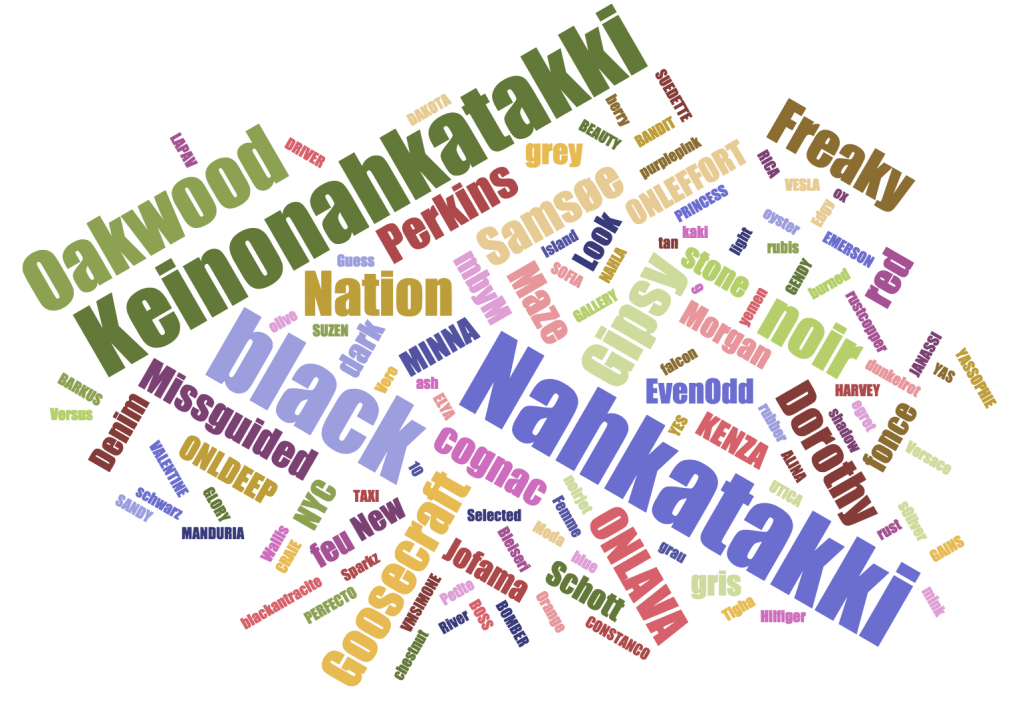 I know the Finnish encryption is just too strong, but I swear the most used terms are "Leather jacket" and "leatherette jacket".
This wordcloud by itself makes it easy to understand the topic of the page.
On-page SEO just like Zalando
Overall Zalando does a lot of the things right in terms of on-page SEO, but there's nothing absolutely magical or groundbreaking to be found. All these things listed in this article are possible for any ecommerce store.
Zalando also still has some amazing opportunities such as writing better meta descriptions for better CTR's and implementing rich snippets.
I'm still using the same Zalando page as an example, but feel free to steal and implement these things into your own ecommerce store as well:
Create own pages for different topics. It still makes sense to create a page listing jackets, one that lists women's jackets and one for men's jackets. Repeat for kids and dogs if you feel like it.
Nail the basic on-page SEO, such as unique titles and descriptions, understandable urls, breadcrumbs and a well designed navigation.
Add some relevant content to pages. Content helps robots to understand context, which helps you to rank better on search.
Cross-link boldly, but smartly. If you like it, point a link to it.
Give at least SOME product description on the product listing page. Sure, you probably shouldn't go for full-out descriptions as they belong to product pages, but it's a good idea to give the highlights already on the product listing page.
Show product reviews. Product reviews have been found to have a positive impact on conversion rates. And that's not all. They help with on-page SEO as well.
As I've said before, none of these things are rocket science. The thing that separates Zalando from most other ecommerce sites is the consistency they've used to SEO their pages.
They have thousands of product listing pages on their site. Most, if not all, of them are keyword targeted and on-page optimised.
This type of commitment to systematic work and content creation is the thing that separates successful ecommerce stores from hopeful wannabes.